Accelerate 'til you see GOD,
then brake.
Stage Four Harley-Davidson engines are "anything goes". This 104 horsepower 96 CID S&S engine is in the best tradition of strokers and big bore engine. Make note of the dyno sheet. As the engine was tuned, the power went up.
Stage Four Engine Specifications
Year: 1995
Model: Bad Boy
Displacement: 96 CID
Cases: S&S
Crankshaft and Flywheel: S&S
Heads: S&S
Cam: Andrew EV-59
Pushrods:
Carb: Mikuni HSR-45
Carb Jetting Information:
Manifold:
Air Cleaner:
Ignition:
Ignition Timing:
Coil:
Pipes: AR 2"
Dyno Tuning Facilities: Turbo Connection
Tuning notes:
104 HP @ 5500 RPM
109 ft. lbs. Torque @ 4400 RPM
96 CID S&S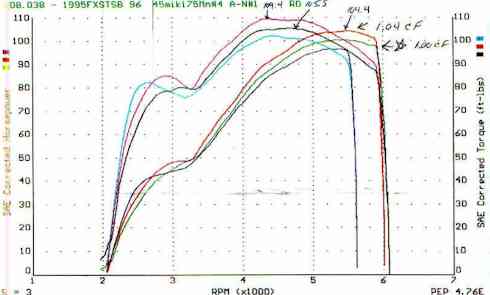 Here you can see a series of dyno runs required to fine tune this engine. Starting with about 96 horsepower, the tuning move the power up to 104. Any increase of 8 horsepower is well worth the investment. All it took was a little time and a few adjustments.