Accelerate 'til you see GOD,
then brake.
Stage Four Harley-Davidson engines are "anything goes". This 124 horsepower 80 CID Evolution engine with a turbo charger is in the best tradition of a low cast Stage 4 engine. Make note of the dyno sheet. The horsepower and torque rise at the same rate.
Stage Four Engine Specifications
Year: 1997
Model: FLHT
Bore: 3.5"
Stroke: 4.25"
Displacement: 81 CID
Cases: H-D
Assembly: James Meador
Crankshaft and Flywheel: H-D
Heads: H-D
Intake Valves:
Exhaust Valves:
Valve Springs: H-D Stock
Porting: None
Compression Ratio: 8.5:1 Stock
Pistons: H-D Stock
Cam: Crane 3002-B
Pushrods: Crane Time Savers
Carb: Keihin CV
Carb Jetting Information: .228 Main
Manifold: H-D Stock
Air Cleaner: K&N AeroCharger modifed by James Meador
Ignition: V-Thunder Programmable
Ignition Timing: 33 BTDC / 28 TDC @ 4 lbs. boost
Coil: Dyna Single Fire
Pipes: Turbo Connections
Turbocharger: AeroCharger
Installation by: Owner - Jim Meado
Dyno Tuning Facilities: Turbo Connection
Tuning notes:
111 HP @ 4100 RPM
124 ft. lbs. Torque @ 4400 RPM
80 CID Evolution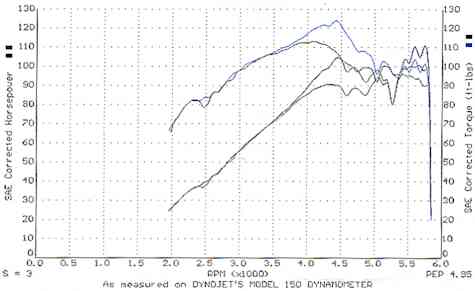 The lower of the two dyno runs is before the "high boost" switch is turned on. For those of you who wonder why the chart gets ragged? This engine is having a few tuning problems at 4500 RPMs. If the tuning issues are solved on this bike, it will be close to 130 horsepower.