You've seen the nice pictures of the manifold on the engine, now see what goes on behind the scene to get a prototype EFI working.
You can see the gas can on the floor. The gas can has been modified to hold an in-tank fuel pump. The wiring for the fuel pump is simply two wires with clips on the end. To power up the fuel pump, the clips are connected to the battery. The gold box where the seat goes is the actual computer or ECU that controls the injectors. Connected to the ECU are the system LCD programmer (Grey box at the bottom), a mixture adjustment control box, MAP sensor, vacuum gauge. The ECU gets the control signal from the Harley ignition system, which in this case is a Crane HI-4E.



If you look closely, you can see the high pressure fuel line laying across the seat area and running to the fuel rail at the bottom of the intake manifold. You can also see the system LCD programmer sitting on the seat area.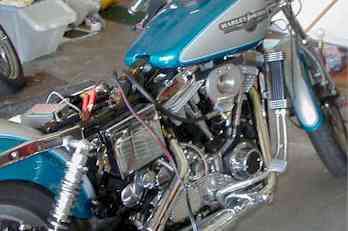 EFI intake manifold casting and machining provide by Taylor Marine