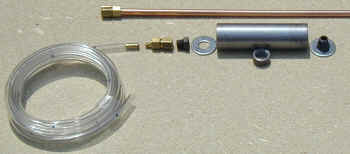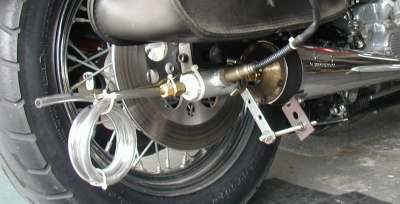 Few motorcycle exhaust systems have O2 sensor mounts in the header. Not many riders of custom cruisers would be willing to have holes drilled into their exhaust system and O2 bungs welded in because this does nothing for most expensive chrome pipes. Equally notable is that most commercially available tail pipe mount probe designs are ill-prepared for use on V-twin motorcycle exhaust because of the large amount of fresh air pulled back into the system.
A more suitable home grown probe was needed that is inexpensive, prevents the fresh air from getting to the WBO2 sensor, can be used on a variety of exhaust systems and is easy to fabricate. An effective design consisting of some 1.5" OD exhaust tubing, 2 washers, a couple of compression fittings, some copper tuning and other miscellaneous parts lying around most garages. The resulting probe proved to be very good.
Stainless steel hose clamps and some angle brackets are used to hold the probe in place.