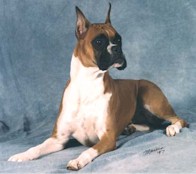 Photo by: Marcia Adams
Ch. Brentwood's Lexus, OFA
"Stash"
A Multiple Best of Breed Winner
---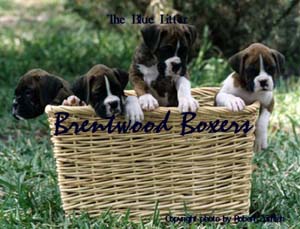 The Blue Litter
Photo by Robert Zurflieh
Brentwood's Blue Knight "Mousse"
Ch. Brentwood's Moody Blues "Maggie"
Ch. Brentwood's Rhythm 'n Blues "Billy"
Brentwood's Rhapsody in Blue "Heather"
Interesting Sites:
American Kennel Club
The Boxer Underground Magazine
Dog Show Events Info. - Onofrio


Dog Breed Jewelry - Originals by Omar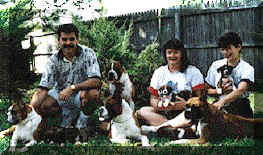 Gene Menendez, Somerset Boborough Boxers
The photo above, taken by Robert Zurflieh, shows five generations of boxers, beginning with Ch. Somerset's Lady Liberty (age 10 1/2) down to Brentwood's "Blue Litter"
(7 puppies shown at 6 weeks of age).
---
Boxers in Obedience
Having owned or bred nine boxers to date which have earned their obedience titles, temperament is a very important trait to be considered. We are very proud of the following obedience boxers.
Boxer
1. Brentwood's Sweet Sundie, UD
2. Banta's Magnificent Invader, CDX
3. Brentwood's Banta Spitfire, CDX
4. Banta's Rough Boy, CD
5. Tamara's Scarborough Fancy, CD
6. Brentwood's Aston Martin, CD
7. Ch. Somerset's Alpha Romeo, CD
8. Banta's Sir Murphy My Boy, CD
9. Banta's Mr. T, CDX
10. Banta's Rough Boy CD
Owner / Trainer
Mary Banta
Mary Banta
Mary Banta
Esther Reigel / Mary Banta
Pat Mullen
Pat Mullen
Pat Mullen
Lori Dittbrenner
Merri Chupko
Esther Riegel